Recently, the China Machinery Industry Federation and the China Association of Automobile Manufacturers, according to major statistical indicators of machinery and automotive manufacturers in 2018, worked out the list of Top 100 Machinery Manufacturers and Top 30 Auto Manufacturers in 2018. Lingong Group, whose operating revenues amounted to 31.77223 billion RMB in 2018, ranked No. 14 among the Top 100 Machinery Manufacturers in China. It also ranked No. 3 among the manufacturers of construction machinery, meaning the Group has entered the Top 3 list for the first time, thus becoming a powerful competitor among the first-tier construction machinery manufacturers in China.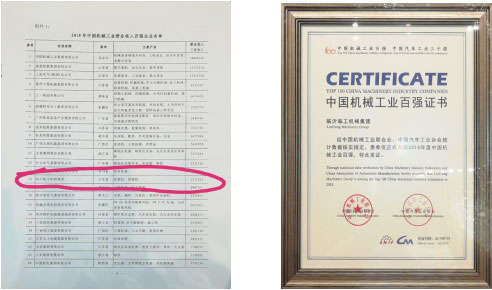 As the saying goes, "Rome was not built overnight". Founded in 1972, Lingong Group started with construction machinery. Its progress and achievements are made because of 47 years of consistency and dedication to manufacturing and developing construction machinery.


Corporate development comes from culture


Lingong Group is headquartered in Linyi City, Shandong Province. When you step into Lingong Group, you will obviously feel the persistence and simplicity of a company featuring the nature of revolutionary base. At the same time, you will be amazed at the modernization and technological development of a traditional manufacturer.


Over the years, guided by the brand philosophy of Reliability in Action, Lingong Group has always adhered to the development concept of "efficiency first, technology priority", and the development strategy of quality and innovation-driven. These ideas and concepts have become the corporate culture for the 47-year history of Lingong Group. Rooted in the heart of every worker, they are reflected in practice and action all the time. Lingong Group keeps providing users with reliable, efficient, energy-saving and safe products and construction solutions along the entire value chain and in all scenarios.


Market competition focuses on product quality


Construction machinery is the focus of Lingong Group. For years, the Group has been concentrating on three mainframe businesses, namely, loaders, excavators and road machinery. At the same time, Lingong Group has been enhancing the core capacity building in key components. At present, the product range covers 15 major product lines and some key components such as loaders, excavators, road rollers, graders, mining trucks, drilling rigs, down-hole equipment and aerial platforms, etc.


To ensure product quality and lasting competitiveness, Lingong Group adheres to technological innovation and management innovation, and implements excellent performance management and lean production methods (LPS). Lingong Group is active to conduct quality system certification and focus on quality management. In the factory, it utilizes TQM, Six Sigma, QRPS, QC and other advanced quality management tools, requiring all employees to participate in quality and improve process control capabilities, motivate employees to practice and make innovations and implement specific policies.


Globalization strategy and keeping abreast of the era are crucial


Because of its international vision, and because of the opportunities brought by China's rapid economic growth to the construction machinery industry, Lingong has entered the first-tier manufacturers of construction machinery in China.


Oriented to the market and focusing on marketing, Lingong Group takes the marketing strategy of "channel as the king". Up to now, it has three manufacturing bases, and its marketing and service network covers more than 130 countries and regions in Asia, Africa, Europe, South America, Australia and other continents. At the same time, Lingong has established joint ventures with Volvo Construction Equipment and Sandvik to enhance its business operations and market development capabilities, and ensure the rapid and healthy development. In September 2018, LGMG Europe was established in the Netherlands. In June 2019, LGMG North America was opened. Committed to providing a full range of services to overseas customers, Lingong Group takes the leading position in international development.


In addition, with the steady development of China's economy and the continuous popularization of the Internet, China has issued a number of policies such as Made in China 2025, Internet +, Industrial Strong Base, Supply-side Reform and Belt and Road Initiative, etc. These moves have brought tremendous opportunities to construction machinery companies.


Lingong Group has made rapid response. In collaboration with Tsinghua University, Kunlun Data and other research institutions and R&D bodies, the Group has set up a construction machinery intelligent operation and maintenance platform. Using advanced technologies such as IoT, Internet, big data, cloud computing, etc., it engages in real-time data acquisition and processing technology application, development and construction of machine big data platform, supporting engineering machinery intelligent design, and intelligent manufacturing. Through intelligent value-added services, it uses new technology to advance into the high-end of the international engineering machinery industry chain. At the same time, it also lays the foundation for the sustainable development of the Group.


CSR empowers enterprise


As a corporate citizen, Lingong Group is actively undertaking and fulfilling social responsibilities in the development process, which will inevitably enhance the reputation and credibility of the company in the market. Over the years, Lingong Group has actively participated in assumed relevant responsibilities and obligations in donating funds, disaster relief, poverty alleviation, and public welfare activities.


From donating directly to Hope Primary School in Xinjiang, Liaoning, Sichuan and Guizhou, to the establishment of the Shandong Lingong Hope Scholarship; from actively joining the World Wildlife Fund (WWF) Carbon Reduction Pioneer Program to fully supporting the Chinese Super League and the AFC Champions League to Top Drivers in China to help the majority of the operators improve their operational skills and obtain more job opportunities, and to helping the poor people in the revolutionary areas to get rid of poverty and become rich by directly donating equipment, and providing vocational training, employment guidance and other measures of precise poverty alleviation, Lingong Group is gaining reputation and credibility.


Therefore, it is no coincidence that Lingong Group is placed in the Top 3 manufacturers of construction machinery. Behind the continuously increasing operating incomes, we can feel the brand value rising year after year. According to statistics of World Brand Lab, Lingong Group was just included, for the 6th time, in the list of China's 500 most valuable brands, whose brand value reached RMB 33.667 billion. Compared with 2014, the brand value of Lingong Group has doubled, rising by146%.


Looking into the future, Lingong Group will continue to adhere to the brand development strategy of internationalization and build a reliable brand. Based in China and oriented towards the world, we will take responsibility for manufacturing and developing major machinery for the country. Climbing higher in the Top 3 list, we wish to become the model in the industry, provide high-level solutions to construction, and promote the rapid progress and sustainable development of China's construction machinery industry.


(Guo Shaohua, Convergence Media, Lingong Group)